Avantech is managed by a team of professionals who have over 25 years experience in bulk earthworks, mining, civil design, construction and project management. The hands‐on approach of our management team ensures clients are dealing with experienced personnel that are able to identify and address potential problems and opportunities on any given project.
We enjoy a reputation of completing projects on time and within budget, with quality outcomes. Our management team has vast experience with all types of projects from mining to bridge and road construction through to urban domain projects and other civil projects.
Avantech's staff are enthusiastic, progressive and dynamic in the way they approach all projects and operate within a culture that truly understands traditional customer service expectations. Delivery of projects in a highly professional manner and beyond the expectations of our customers is our main focus.
Our teams are selected on a project‐by‐project basis, ensuring we provide the optimum skill and experience level to suit each specific project. Our strategy includes continuous liaison with the client during the early phases so our team can develop a clear understanding of each project's short and long‐term objectives. This enables a more practical and fluid transfer of information between the consultants and promotes a broader understanding across all disciplines.

Project Delivery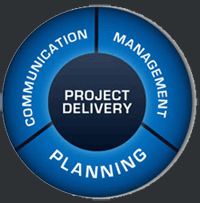 All projects are delivered under the provision of our corporate quality assurance system, requiring the preparation of a project specific quality plan, endorsed and administered by senior site personnel to ensure the quality of our work. Avantech has the ability to integrate engineering with contracting services to complete any infrastructure project.
Solutions
Avantech has provided innovative contractual solutions and construction techniques to the benefit of clients projects. Avantech actively seeks to partnership with clients to add value to their business and offer the expertise of our experienced managers and personnel.
Each project can differ greatly. Avantech acknowledge this by choosing staff that have the experience and skills necessary for each project. Choosing the right people for the right job has been the driving force behind Avantech getting the job done on time…and within budget.