PLANT MAINTENANCE
Avantech uses a planned preventative maintenance system that combined with a professional supply and logistics team delivers superior equipment availability. The Avantech system is based on a centralised Plant Maintenance software package that is integrated with, warehousing, Avantech has developed strategic relationships with leading global suppliers. These long term business relationships ensure best value to all parties. Avantech uses the latest techniques,  equipment, to  established modern warehouses that operate efficiently at remote sites in Africa. With the latest software the warehouse is monitored and maintained in a safety focused environment to maximize returns on inventory.
SUPPLY
Avantech Supply brings together an experienced team with exposure to a variety of industries including corporate mining, drilling, construction & civil works. The team has vast experience in operating with smaller companies right through to large companies, with particular emphasis of managing the supply  chain in developing countries. purchasing and accounting modules.  It is a sophisticated maintenance control system that provides an effective planning and maintenance control solution. Avantech has employed experienced expatriate maintenance personnel that are the backbone of the maintenance system.  The company is dedicated to the training of national employees and developing skill sets.  Avantech has recently pioneered  an apprenticeship training and accreditation scheme and training of all employees remains one of the company's priorities.
LOGISTICS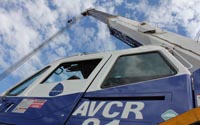 Avantech has the in-country expertise to deal with the intricacies associated with receiving and dispatching shipments in developing countries. Coupled with the skills and experience in moving large plant and mining consumables throughout Africa countries, and from abroad.
COMMUNICATIONS
Avantech uses a high speed WIMAX communication system in order to ensure that security of supply  of communications is maintained.  All sites and vehicles utilise VHF radios for on-site communication.